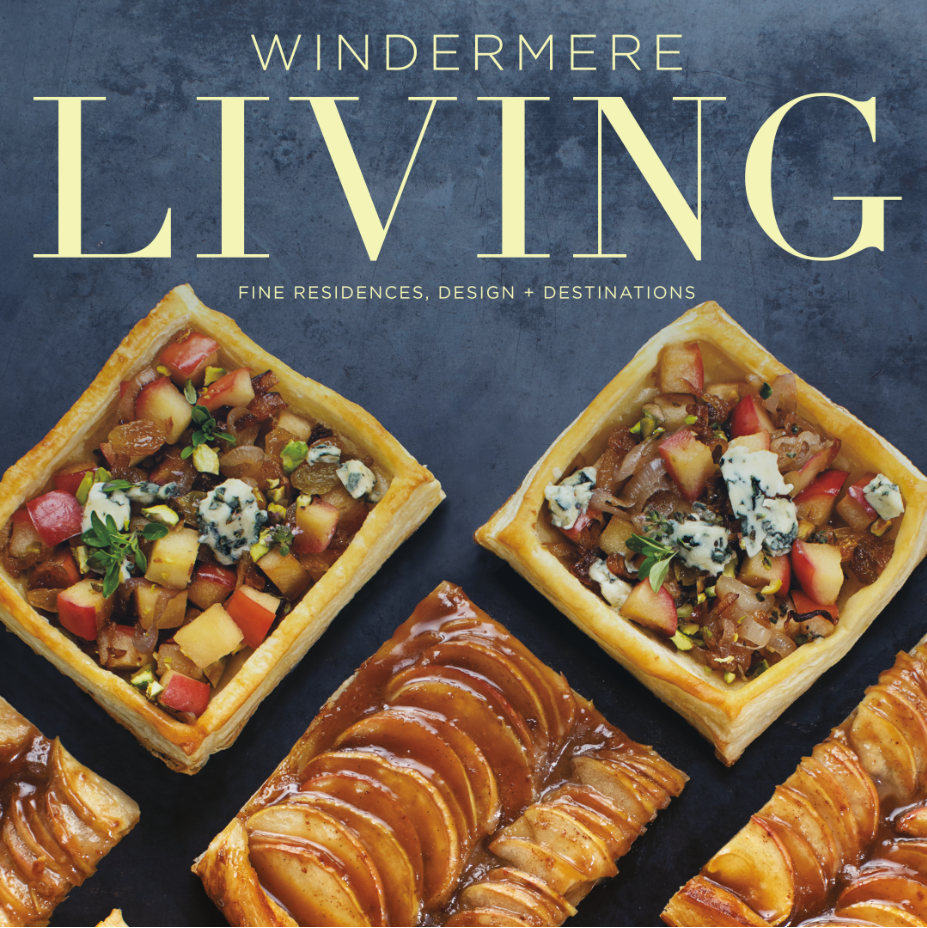 Dear Readers,
Welcome to the fall issue of Windermere Living! Are you a foodie who loves to travel? Inside this issue is an article about interesting destinations where you can enjoy edible, immersive experiences like making your own coffee on the Kona coast of Hawaii, or diving for clams in Cabo and cooking them with an executive chef.
If you've ever undergone a major home remodel, you know all too well how important it is to partner with the right architect. We explore that topic in this issue, along with some pro tips on how to match yourself up with the perfect architect for your project, a process that isn't that different from dating.
Last but not least, there are more than 70 pages filled with homes for sale throughout the Western U.S. Whether you're in the market for a country farmhouse or a high-rise condo, there's a little something for everyone.
This is just a sampling of what you'll find in this issue of Windermere Living; we hope you enjoy it!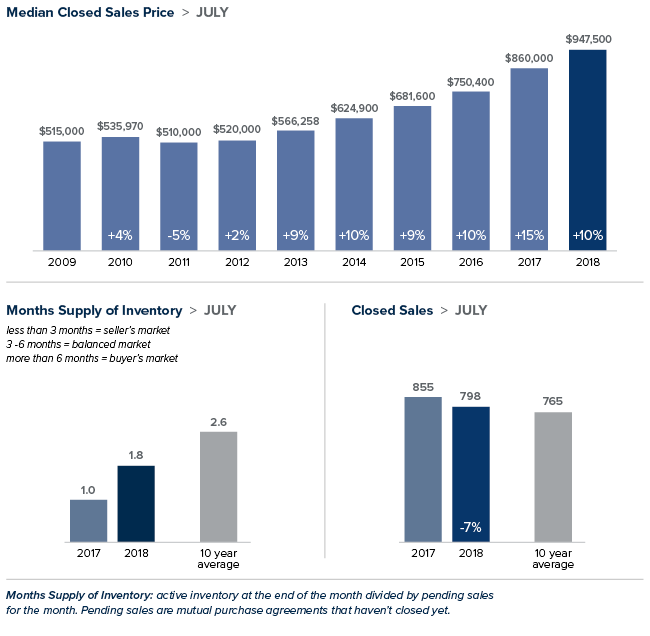 For the first time in years, the real estate market is finally starting to deliver good news for buyers. The region experienced its third straight month of significant growth in inventory.  Homes are sitting on the market longer, prices are moderating, and multiple offers are becoming more rare. Despite the surge in homes for sale, it is still a seller's market.  Inventory would need to triple to reach what is considered a balanced market.
Eastside
Inventory on the Eastside soared 47 percent over the same time last year. There was a slight increase in new listings, but the jump was mostly due to homes staying on the market longer. Price drops have become more common.  With buyers having more choices, sellers need to work with their broker to make sure they price their home correctly the first time. After setting a new high of $977,759 in June, the median price of a single-family home dropped to $947,500 in July.  While offering some hope that prices may have started to moderate, the median is still 10 percent higher than it was the same time a year ago.
King County
King County saw the biggest increase in inventory in a decade, with the number of homes for sale jumping 48 percent over a year ago.  However, at 1.5 months of supply that's still well below the 4-6 months of inventory that is considered balanced.  The median price of a single-family sold in July was $699,000. That represents an increase of 6 percent from a year ago, but is down 4 percent from the record high of $725,000 set in April. Perceptions that the market is cooling needs to be kept in perspective. Homes here took an average of 15 days to sell.
Seattle
Seattle saw inventory shoot up 60 percent over a year ago, bringing the supply to its highest level in over three years.  Even with the sharp increase, much more inventory is needed to meet the demand for homes in the city and sellers may well decide to jump into the market. According to a Zillow study, more than 97 percent of homes in Seattle are worth more now than the peak level before the housing market crashed. Median home prices are 29 percent above the bubble peak level with the median price in July landing at $805,000; up 7 percent from last July and down from the record $830,000 reached in May.
Snohomish County
Snohomish County also had double-digit increases in inventory, though not nearly as great as King County. The number of homes for sale in July increased nearly 16 percent over the same time a year ago, but inventory continues to be very tight. The median price of a single-family home rose 9 percent year-to-year to $495,000. That figure is down from the record high of $511,500 set in June. A move towards a more moderated market is encouraging for buyers and an incentive for sellers to list their homes soon.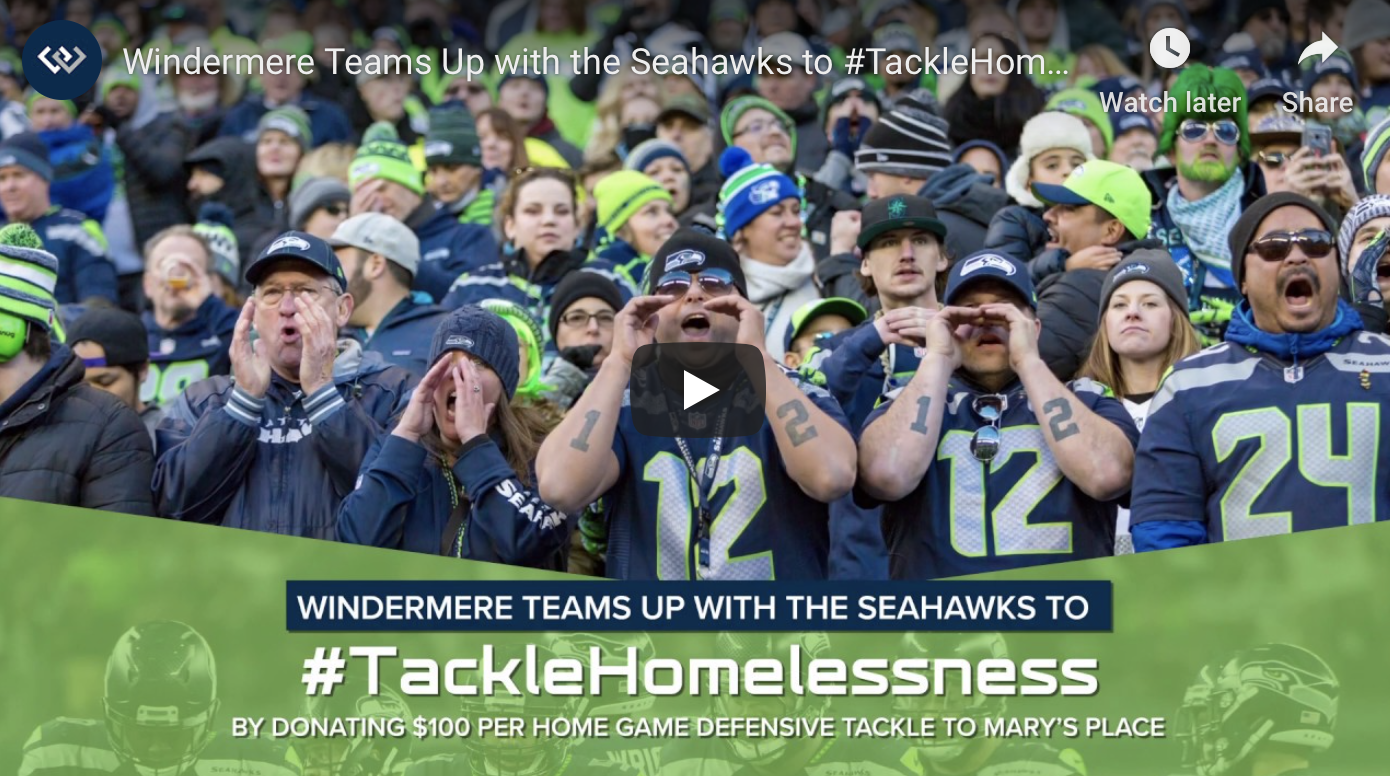 Windermere is proud to partner with the Seattle Seahawks for the fourth season to help #TackleHomelessness. For every Seahawks home game defensive tackle, Windermere will donate $100 to Mary's Place, whose mission is to help families on their journey out of homelessness. To date we've raised nearly $100,000 through our #TackleHomelessness campaign and we're looking forward to raising even more for our friends at Mary's Place!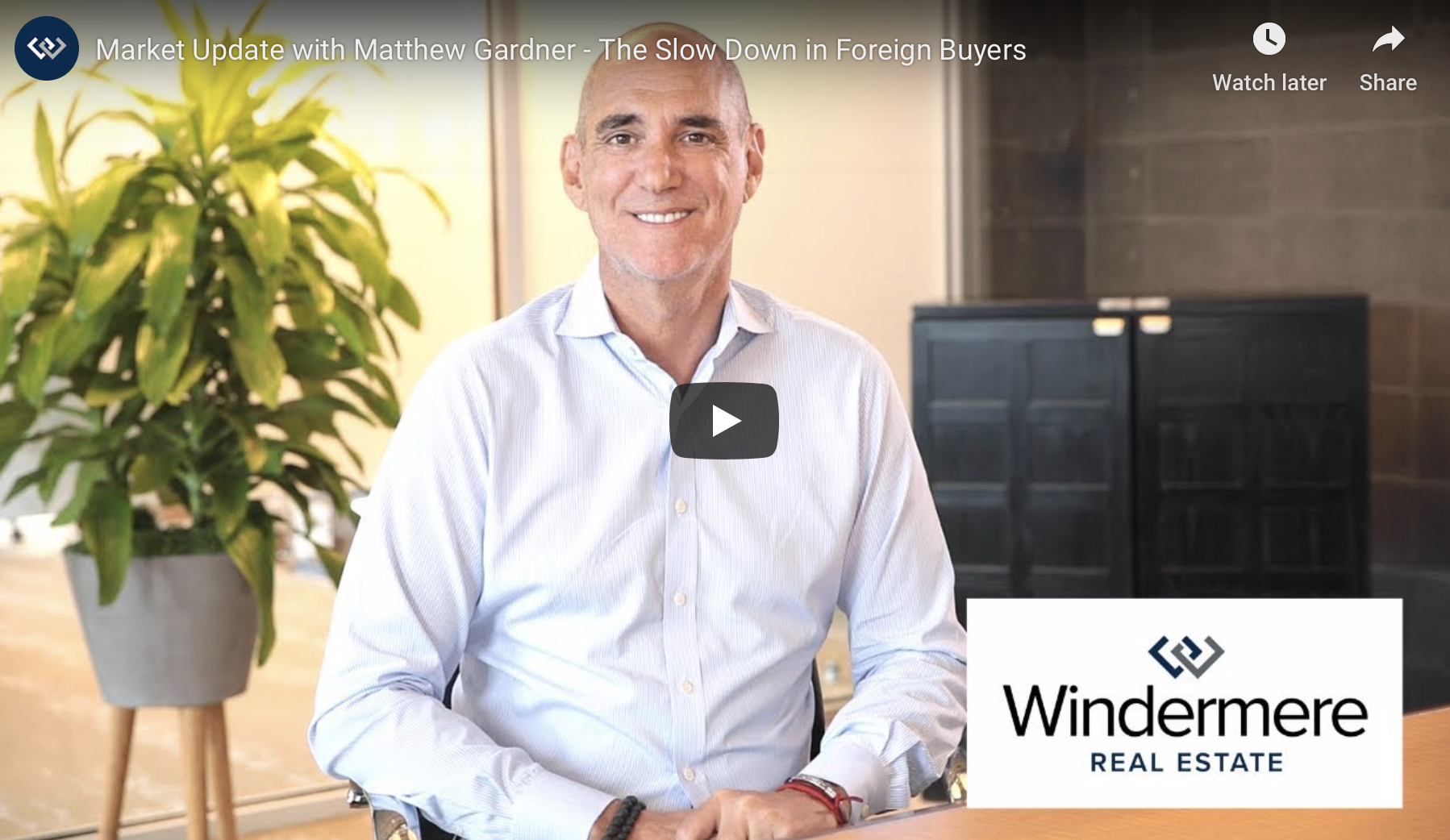 The United States housing market is experiencing a significant reduction in foreign buyers. Windermere Chief Economist, Matthew Gardner, cites several factors that could be contributing to this trend and offers his opinions as to what to expect in this recent Market Update.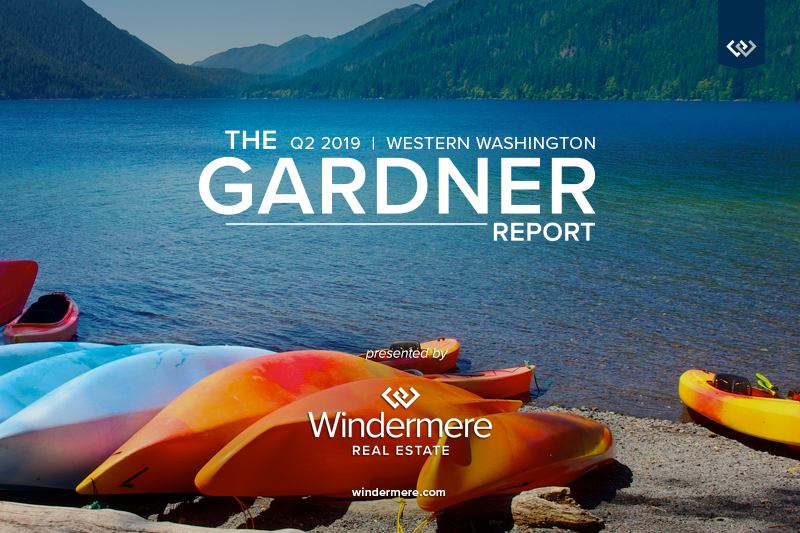 The following analysis of the Western Washington real estate market is provided by Windermere Real Estate Chief Economist Matthew Gardner. We hope that this information may assist you with making better-informed real estate decisions. For further information about the housing market in your area, please contact me.
ECONOMIC OVERVIEW
Washington State employment jumped back up to an annual growth rate of 2.4% following a disappointing slowdown earlier in the spring. As stated in the first quarter Gardner Report, the dismal numbers earlier this year were a function of the state re-benchmarking its data (which they do annually).
The state unemployment rate was 4.7%, marginally up from 4.5% a year ago. My current economic forecast suggests that statewide job growth in 2019 will rise by 2.6%, with a total of 87,500 new jobs created.
HOME SALES
There were 22,281 home sales during the second quarter of 2019, representing a drop of 4.8% from the same period in 2018. On a more positive note, sales jumped 67.6% compared to the first quarterof this year.
Since the middle of last year, there has been a rapid rise in the number of homes for sale, which is likely the reason sales have slowed. More choice means buyers can be more selective and take their time when choosing a home to buy.
Compared to the second quarter of 2018, there were fewer sales in all counties except Whatcom and Lewis. The greatest declines were in Clallam, San Juan, and Jefferson counties.
Listings rose 19% compared to the second quarter of 2018, but there are still a number of very tight markets where inventory levels are lower than a year ago. Generally, these are the smaller — and more affordable — markets, which suggests that affordability remains an issue.
HOME PRICES
Year-over-year price growth in Western Washington continues to taper. The average home price during second quarter was $540,781, which is 2.8% higher than a year ago. When compared to first quarter of this year, prices were up 12%.
Home prices were higher in every county except King, which is unsurprising given the cost of homes in that area. Even though King County is home to the majority of jobs in the region, housing is out of reach for many and I anticipate that this will continue to act as a drag on price growth.
When compared to the same period a year ago, price growth was strongest in Lewis County, where home prices were up 15.9%. Double-digit price increases were also seen in Mason, Cowlitz, Grays Harbor, and Skagit counties.
The region's economy remains robust, which should be a positive influence on price growth. That said, affordability issues are pervasive and will act as a headwind through the balance of the year, especially in those markets that are close to job centers. This will likely force some buyers to look further afield when searching for a new home.
DAYS ON MARKET
The average number of days it took to sell a home matched the second quarter of 2018.
Snohomish County was the tightest market in Western Washington, with homes taking an average of only 21 days to sell. There were five counties where the length of time it took to sell a home dropped compared to the same period a year ago. Market time rose in eight counties and two were unchanged.
Across the entire region, it took an average of 41 days to sell a home in the second quarter of 2019. This was the same as a year ago but is down 20 days compared to the first quarter of 2019.
As stated above, days-on-market dropped as we moved through the spring, but all markets are not equal. I suggest that this is not too much of an issue and that well-priced homes will continue to attract attention and sell fairly rapidly.
CONCLUSIONS
This speedometer reflects the state of the region's real estate market using housing inventory, price gains, home sales, interest rates, and larger economic factors. I am leaving the needle in the same position as the first quarter as demand appears to still be strong.
The market has benefitted from a fairly significant drop in mortgage rates. With average 30-year fixed rates still below 4%, I expect buyers who have been sitting on the fence will become more active, especially given that they have more homes to choose from.
As Chief Economist for Windermere Real Estate, Matthew Gardner is responsible for analyzing and interpreting economic data and its impact on the real estate market on both a local and national level. Matthew has over 30 years of professional experience both in the U.S. and U.K.
In addition to his day-to-day responsibilities, Matthew sits on the Washington State Governors Council of Economic Advisors; chairs the Board of Trustees at the Washington Center for Real Estate Research at the University of Washington; and is an Advisory Board Member at the Runstad Center for Real Estate Studies at the University of Washington where he also lectures in real estate economics.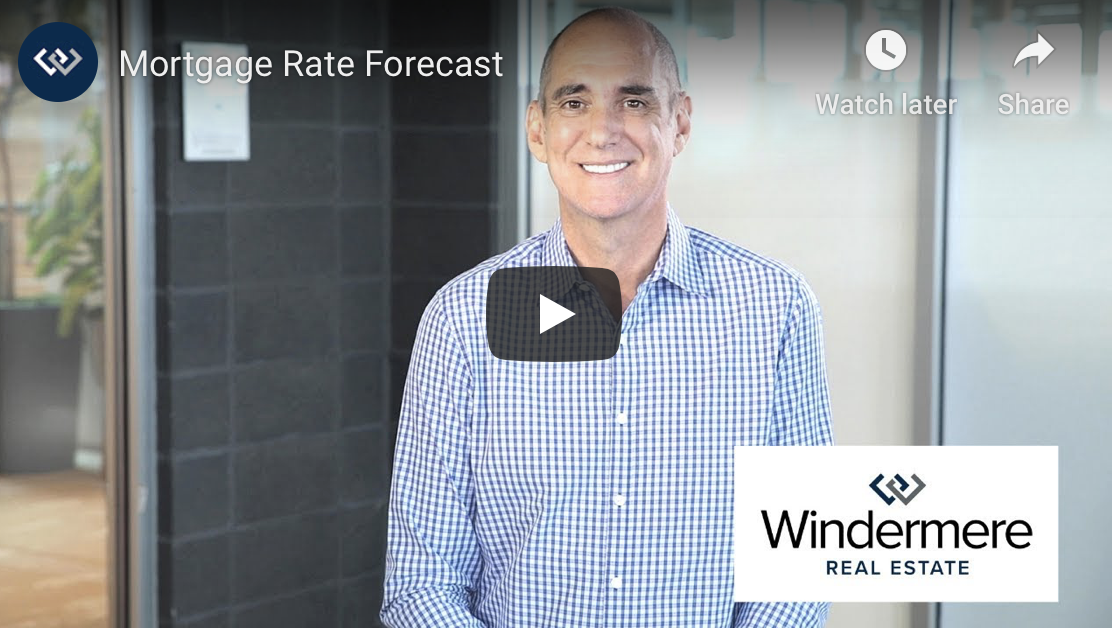 Geopolitical uncertainty is causing mortgage rates to drop. Windermere Chief Economist, Matthew Gardner, explains why this is and what you can expect to see mortgage rates do in the coming year.
Over the past few months we've seen a fairly significant drop in mortgage rates that has been essentially driven by geopolitical uncertainty – mainly caused by the trade war with China and ongoing discussions over tariffs with Mexico.
Now, mortgage rates are based on yields on 10-Year treasuries, and the interest rate on bonds tends to drop during times of economic uncertainty.  When this occurs, mortgage rates also drop.
My current forecast model predicts that average 30-year mortgage rates will end 2019 at around 4.4%, and by the end of 2020 I expect to see the average 30-year rate just modestly higher at 4.6%.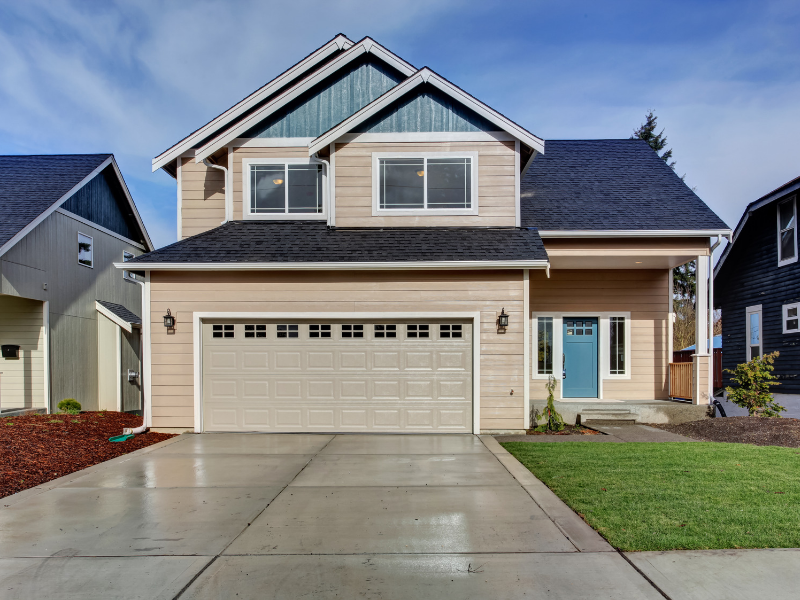 You'll never have a second chance at a first impression, so let's make it count! When it comes to upping your home's curb appeal, there are plenty of small changes you can make that have a big impact. And best of all, you don't need to call in the pros or spend a fortune to get beautiful results. Below are some helpful and affordable tips.
A Well-Maintained Yard
Mowing: The first step to a well-manicured lawn is to mow it regularly. The experts recommending mowing high because mowing it too short can damage the grass and allow weeds to set root.
Weeds: To prevent weeds like crabgrass use a pre-emergent herbicide in early spring. These herbicides manage the weeds by stopping the seeds from sprouting in your lawn. Broadleaf weeds like dandelions can be stopped by applying granular weed control products.
Feeding: Lawns consume mostly nitrogen, so look for mixes of fast and slow release fertilizers; they will feed your lawn over time while keeping it lush and green.
Watering: Nighttime watering can result in long spans of moisture on the blades, potentially exposing your grass to disease. Consider watering your lawn in the morning – the sun helps dry out the blades throughout the day.
Flowers: You can quickly and affordably dress up your yard with colorful pre-made flower pots and containers. When placing your flower pots and containers remember that asymmetrical arrangements and staggering plants will provided the liveliest setting.
Dress up the Front Door and Porch
Paint: A fresh coat of paint in a pop color can give your home a well-deserved facelift. Get some color inspiration from House Beautiful.
Replace Old Hardware: Clean off any dirty spots around the door knob, and use a metal polish on the fixtures. Change out house numbers for an updated feel, put up a wall-mounted mailbox, or add an overhead light fixture. Keep in mind that well thought through elements, instead of mix-and-match pieces, will add the most curb appeal.
Create Perfect Symmetry: Symmetry is one of the simplest design techniques to master and is the most pleasing to the eye. Maintain symmetry by flanking your front door with two sidelights (just make sure that your hardware matches); find two urn planters or a unique visual detail to put on either side of your door.