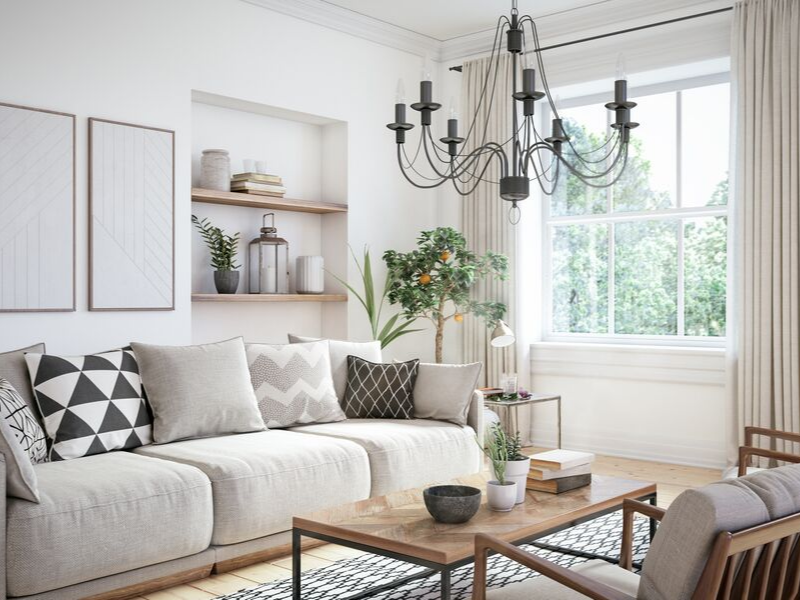 For more than 20 years, the benefits of staging a home have been well documented. Numerous studies show that staging helps sell a home faster and for a higher price. According to the National Association of REALTORS®, 88 percent of home buyers start their search online, forming impressions within three seconds of viewing a listing. When a home is well staged, it photographs well and makes the kind of the first impression that encourages buyers to take the next step.
Studies also indicate that buyers decide if they're interested within the first 30 seconds of entering a home. Not only does home staging help to remove potential red flags that can turn buyers off, but it also helps them begin to imagine living there. Homes that are professionally staged look more "move-in ready" and that makes them far more appealing to potential buyers.
According to the Village Voice, staged homes sell in one-third less time than non-staged homes. Staged homes can also command higher prices than non-staged homes. Data compiled by the U.S. Department of Housing and Urban Development indicate that staged homes sell for approximately 17 percent more than non-staged homes.
A measurable difference in time and money
In a study conducted by the Real Estate Staging Association in 2007, a group of vacant homes that had remained unsold for an average of 131 days were taken off the market, staged, and relisted. The newly staged properties sold, on average, in just 42 days, – which is approximately 68 percent less time on the market.
The study was repeated in 2011, in a more challenging market, and the numbers were even more dramatic. Vacant homes that were previously on the market for an average of 156 days as unstaged properties, when listed again as staged properties, sold after an average of 42 days—an average of 73 percent less time on the market.
Small investments, big potential returns
Staging is a powerful advantage when selling your home, but that's not the only reason to do it. Staging uncovers problems that need to be addressed, repairs that need to be made, and upgrades that should be undertaken. For a relatively small investment of time and money, you can reap big returns. Staged properties are more inviting, and that inspires the kind of peace-of-mind that gets buyers to sign on the dotted line. In the age of social media, a well-staged home is a home that stands out, gets shared, and sticks in people's minds.
What's more, the investment in staging can bring a higher price. According to the National Association of REALTORS, the average staging investment is between one percent and three percent of the home's asking price, and typically generates a return of eight to ten percent.
In short, less time on the market and higher selling prices make the small cost of staging your home a wise investment.
Interested in learning more? Contact me for information about the value of staging and referrals for professional home stagers.
You'll never have a second chance at a first impression, so let's make it count! When it comes to upping your home's curb appeal, there are plenty of small changes you can make that have a big impact. And best of all, you don't need to call in the pros or spend a fortune to get beautiful results. Below are some helpful and affordable tips.
A Well-Maintained Yard
Mowing: The first step to a well-manicured lawn is to mow it regularly. The experts recommending mowing high because mowing it too short can damage the grass and allow weeds to set root.
Weeds: To prevent weeds like crabgrass use a pre-emergent herbicide in early spring. These herbicides manage the weeds by stopping the seeds from sprouting in your lawn. Broadleaf weeds like dandelions can be stopped by applying granular weed control products.
Feeding: Lawns consume mostly nitrogen, so look for mixes of fast and slow release fertilizers; they will feed your lawn over time while keeping it lush and green.
Watering: Nighttime watering can result in long spans of moisture on the blades, potentially exposing your grass to disease. Consider watering your lawn in the morning – the sun helps dry out the blades throughout the day.
Flowers: You can quickly and affordably dress up your yard with colorful pre-made flower pots and containers. When placing your flower pots and containers remember that asymmetrical arrangements and staggering plants will provided the liveliest setting.
Dress up the Front Door and Porch
Paint: A fresh coat of paint in a pop color can give your home a well-deserved facelift. Get some color inspiration from House Beautiful.
Replace Old Hardware: Clean off any dirty spots around the door knob, and use a metal polish on the fixtures. Change out house numbers for an updated feel, put up a wall-mounted mailbox, or add an overhead light fixture. Keep in mind that well thought through elements, instead of mix-and-match pieces, will add the most curb appeal.
Create Perfect Symmetry: Symmetry is one of the simplest design techniques to master and is the most pleasing to the eye. Maintain symmetry by flanking your front door with two sidelights (just make sure that your hardware matches); find two urn planters or a unique visual detail to put on either side of your door.
When I was growing up, my family must have moved a dozen times. After the first few moves, we had it down to a science: timed out, scheduled, down to the last box. Despite our best efforts, plans would change, move-out and move-in days would shift, and the experience would stress the entire family out. Despite the stress, we always managed to settle in our new home and sell our old one before the start of school.
With a lot of planning and scheduling, you can minimize the stress of selling your house and moving. Here are some tips:
Plan Ahead
Know when you want to be moved out and into your new home and have a backup plan in case it falls through. Before you sell your home, familiarize yourself with local and state laws about selling a home so you're not caught by surprise if you forget something important.
Lists and schedules are going to be your new best friend through the process. Have a timetable for when you want to sell your house when you have appraisers, realtors, movers, etc. over. Also, keep one for when your things need to be packed and when you need to be moved into the new place. I suggest keeping it on an Excel sheet so you can easily update it as the timeline changes (and it will – stuff happens).
Use Resources
First time selling a house? Check out some great resources on what you need to know. US News has excellent, step-by-step guides on what you need to know to sell. Appraisers and realtors can also be good resources, and since you'll be working with them through the process, be sure to ask them questions or have them point you to resources.
Appraisal
Have your house appraised before you sell so you know your budget for your new home. This will help you look for an affordable home that meets your family's needs. It will also help you maximize the amount you can receive for your old home. You can also learn useful information from an appraisal, such as which repairs need to be made, if any.
Repairs
Does your house need repairs before you move? If so, figure out whether you'll be covering them, or whether your buyers will (this will be a part of price negotiations, so factor it in with your home budget). Will you need to make repairs in your new house, or will that be covered? Either way, make sure you know which repairs need to be made – and either be upfront with buyers about them or make them before you sell.
Prepare to Move
If you're moving to a new town or a new state, you need to prepare more than just a new home. Research doctors and dentists, places to eat, and what to do for fun. If you have school-aged children, look at the local school district or private school options – not only to learn how to enroll your kids, but also to get a feel for the school culture, see what extracurricular activities your kids can do, what standards/learning methods your kids' new school will implement, etc.
Packing
Think: how soon are you moving, what will you need to use before you move, what can get boxed and what needs to stay out?  The sooner you're moving out, the sooner you need to pack, but if you have time, just take a day per weekend to organize a room, pack what you want to take and arrange to donate what you want to get rid of.
Downsizing
Moves are a great time to purge old, unwanted and unused stuff from your home. Sometimes, it's necessary if you're moving into a smaller space. Either way, as you pack each room, think about whether you use what you're packing to take with you. If you do, pack it to go. If not, put it in a separate box to go to your local donations place. You can also call some organizations to have your unwanted things picked up, no hassle.
If You Have Kids
Moving with kids can be extra stressful. Be sure to include them in the process. This is a wonderful opportunity to teach younger children about moving and prepare them for the changes it brings. Older children can help out with responsibilities, like packing their room or researching their new town.
Your New Place
Moving into a new place takes some planning as well. Once you've bought your new home or condo, design at least a basic outline for where your stuff will be set up. Make necessary repairs and decorate (painting, for example) before you unpack. Ideally, you should have some time to do these things before, but if you don't, don't be in a hurry to unpack everything – it can be a hassle to paint if you have all your furniture and bookshelves up!
Staying In Touch and Making New Friends
Finally, moving can mean good-byes with family and/or friends. Social media is a great way to keep in touch with people after you've moved, but distance can still weaken these old relationships. Make some time to call or message your old friends to keep in touch. Pair that work with a concerted effort to meet new people. See what hobbies or groups are in your new area and start there. It doesn't seem like a lot, but it can make your new house a home and make your new town a community you can enjoy.