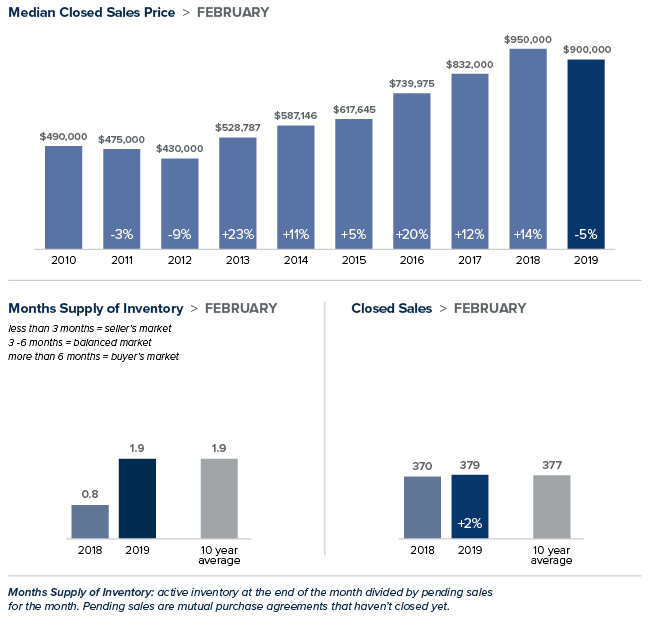 The spring home buying season started early this year. Open houses had increased attendance and bidding wars returned. After months of softening, home prices in most of the region jumped significantly from the prior month. With just one month of data, we'll have to wait and see if this is the start of a longer upward trend.
Eastside
The Eastside was one area of King County that continued to see prices moderate. The median price of a single-family home on the Eastside was $900,000 in February, a drop of 5 percent from a year ago and down slightly from last month. However, supply here isn't nearly enough to meet demand, a fact that most likely won't change any time soon. Amazon's latest expansion in Bellevue is expected to bring a significant wave of new employees to the city.
King County
The median single-family home in King County sold for $655,000 in February. While up slightly less than 1 percent year-over-year, it was an increase of $45,000 over January. Southeast King County, which includes Kent, Renton and Auburn, saw the greatest gains with prices rising 4.5 percent over the previous year. While inventory has grown, it is less than half of the four to six months that is considered balanced.
Seattle
More inventory and low interest rates helped bring buyers back into the market. The median price of a single-family home in Seattle hit $730,000 in February, down 6 percent from a year ago, but up $18,500 from January. With just six weeks of available supply, Seattle continues to have the tightest inventory in the county. Seattle's record development boom shows little signs of easing, so we can expect strong demand to continue.
Snohomish County
The median price of a single-family home in Snohomish County reached $474,947 in February. Although that is a 2 percent decrease from last year, it is $5,000 more than January. As buyers push outside of King County to search for more reasonably priced homes, Snohomish County continues to struggle to find enough inventory to meet growing demand.
This post originally appeared on the WindermereEastside.com Blog.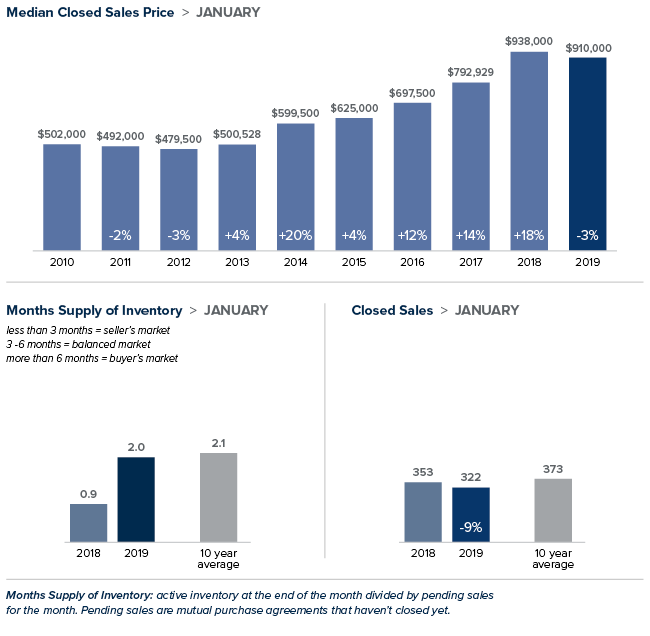 January brought more good news for homebuyers. Prices were down, inventory was up and interest rates hovered near a nine-month low. Those factors drove more buyers into the market and resulted in an uptick in sales for the month. We'll see how this transitioning market evolves as we head into the prime Spring home buying season.
Eastside
The most expensive region in King County saw prices soften in January. The median price of a single-family home on the Eastside dropped 3 percent over last January to $910,000. It's an excellent time for buyers to leverage the cooling market and negotiate terms that work best for their needs. Last January, 39 percent of the homes in this area sold for over asking price. This January, that figure dropped to 12 percent. With its favorable business climate and high rankings for both economic growth and technology capabilities, demand on the Eastside is projected to remain strong.
King County
January marked the first time home prices in King County decreased year-over-year in seven years. The median price of a single-family home was $610,0000, a drop of 3 percent over the prior year. Inventory more than doubled. Unlike recent months, this was due primarily to more people putting their homes on the market, as opposed to homes taking longer to sell. Despite the surge in listings there is just two months of available inventory, far short of what is needed to meet demand.
Seattle
The median price of a single-family home in the city was $711,500 in January, a decrease of 6 percent year-over-year. Despite a 107 percent increase in homes for sale compared to a year ago, Seattle continues to have the tightest inventory in King County with less than two months of supply. A booming economy that shows no signs of slowing continues to draw more people to the city. The area will have to significantly add more inventory to meet that growing demand.
Snohomish County
The median price of a single-family home in January inched up 1 percent from last year to $455,000. That price is down from the median of $470,000 recorded in December. Snohomish County also saw a surge in inventory with the number of homes on the market double of what it was last year at this time.
This post originally appeared on the WindermereEastside.com Blog.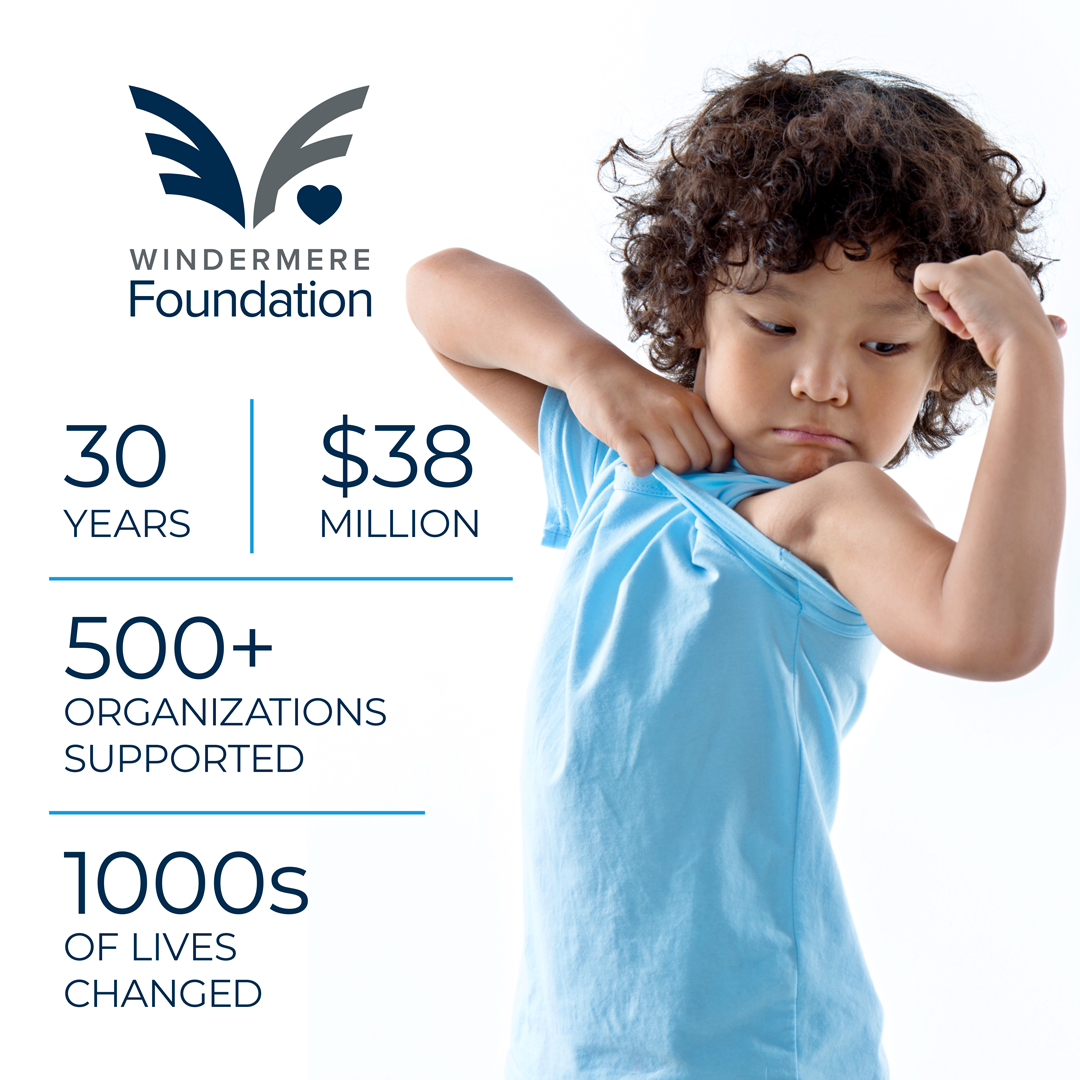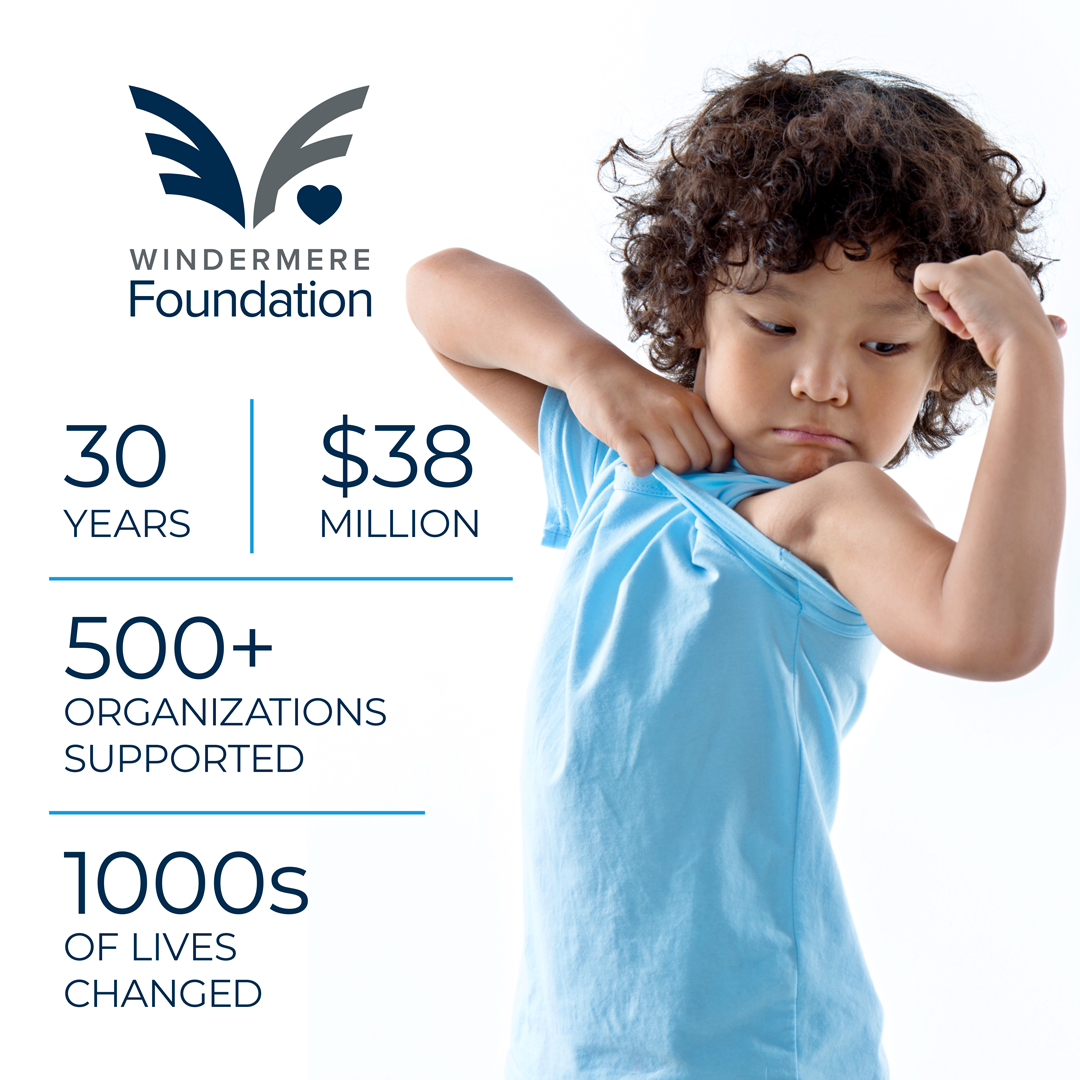 2018 concluded with another great year of fundraising and giving for the Windermere Foundation, thanks to the continued support of Windermere franchise owners, agents, staff, and the community. Nearly $2.5 million was raised in 2018, bringing our grand total to over $38 million raised since the Foundation's inception in 1989! During the past year, nearly $1.9 million was donated to non-profit organizations throughout the Western U.S. that provide much-needed services to low-income and homeless families. In 2018, the Windermere Foundation fulfilled 689 grant requests and served 507 non-profit organizations.
A portion of the money raised every year is due in part to our agents who each make a donation to the Windermere Foundation from every commission they earn. Additional donations from Windermere agents, the community, and fundraisers made up 68% of the money collected in 2018. Each Windermere office has their own Foundation funds, which enable them to support local non-profits in their communities.
One organization that received Windermere Foundation donations from several Windermere Real Estate offices in the Seattle area is Treehouse. Treehouse's mission is to give foster kids a childhood and a future. Their goal that they have set to achieve by 2022, is to see youth in foster care graduate from high school at the same rate as their peers across Washington State. And to provide them with support and a plan to launch successfully into adulthood. Donations from the Windermere Foundation have helped Treehouse clients like Ashley, get the support she needed to turn her life around.
"I didn't have a childhood that all kids should have–like making friends my age or playing sports. I changed the path that I was on because I wanted to give people a reason to believe in me. You have to want to change and speak your truth, but you can't do it without people believing in you. You can get through the darkest situations, you just gotta look for a little crack of light. Treehouse is that crack of light for me," ~Ashley
2018 also marked the third year of our #tacklehomelessness campaign with the Seattle Seahawks, in which Windermere committed to donating $100 for every Seahawks home game defensive tackle to YouthCare, a non-profit organization that provides critical services to homeless youth. While the Seahawks didn't make it past the first round of the playoffs, they did help us raise $31,900. When added to previous seasons, the total donation for the past three years is $98,700! We are grateful for the opportunity to provide additional support to homeless youth thanks to the Seahawks, YouthCare, and the #tacklehomelessnesscampaign.
Thanks to our agents, offices, and everyone who supports the Windermere Foundation, we have been able to make a difference in the lives of many families in our local communities over the past 30 years. If you'd like to help support programs in your community, please click the Donate button.
To learn more about the Windermere Foundation, visit http://www.windermere.com/foundation.
This was originally posted on the Windermere Blog.