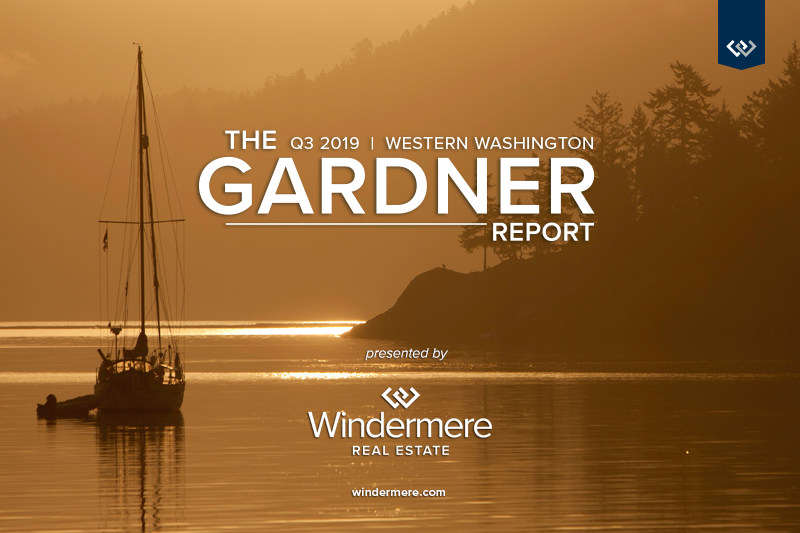 The following analysis of the Western Washington real estate market is provided by Windermere Real Estate Chief Economist, Matthew Gardner. We hope that this information may assist you with making better-informed real estate decisions. For further information about the housing market in your area, please don't hesitate to contact us.
ECONOMIC OVERVIEW
Washington State employment has softened slightly to an annual growth rate of 2%, which is still a respectable number compared to other West Coast states and the country as a whole. In all, I expect that Washington will continue to add jobs at a reasonable rate though it is clear that businesses are starting to feel the effects of the trade war with China and this is impacting hiring practices. The state unemployment rate was 4.6%, marginally higher than the 4.4% level of a year ago. My most recent economic forecast suggests that statewide job growth in 2019 will rise by 2.2%, with a total of 88,400 new jobs created.
HOME SALES
There were 22,685 home sales during the third quarter of 2019, representing a slight increase of 0.8% from the same period in 2018 and essentially at the same level as in the second quarter.
Listing activity — which rose substantially from the middle of last year — appears to have settled down. This is likely to slow sales as there is less choice in the market.
Compared to the third quarter of 2018, sales rose in five counties, remained static in one, and dropped in nine. The greatest growth was in Skagit and Clallam counties. Jefferson, Kitsap, and Cowlitz counties experienced significant declines.
The average number of homes for sale rose 11% between the second and third quarters. However, inventory is 14% lower than in the same quarter of 2018. In fact, no county contained in this report had more homes for sale in the third quarter than a year ago.
HOME PRICES
Home price growth in Western Washington notched a little higher in the third quarter, with average prices 4.2% higher than a year ago. The average sales price in Western Washington was $523,016. It is worth noting, though, that prices were down 3.3% compared to the second quarter of this year.
Home prices were higher in every county except Island, though the decline there was very small.
When compared to the same period a year ago, price growth was strongest in Grays Harbor County, where home prices were up 22%. San Juan, Jefferson, and Cowlitz counties also saw double-digit price increases.
Affordability issues are driving buyers further out which is resulting in above-average price growth in outlying markets. I expect home prices to continue appreciating as we move through 2020, but the pace of growth will continue to slow.
DAYS ON MARKET
The average number of days it took to sell a home dropped one day when compared to the third quarter of 2018.
Thurston County was the tightest market in Western Washington, with homes taking an average of only 20 days to sell. There were six counties where the length of time it took to sell a home dropped compared to the same period a year ago. Market time rose in six counties, while two counties were unchanged.
Across the entire region, it took an average of 38 days to sell a home in the third quarter. This was down 3 days compared to the second quarter of this year.
Market time remains below the long-term average across the region and this trend is likely to continue until more inventory comes to market, which I do not expect will happen until next spring.
CONCLUSIONS
This speedometer reflects the state of the region's real estate market using housing inventory, price gains, home sales, interest rates, and larger economic factors. I am leaving the needle in the same position as the first and second quarters, as demand appears to still be strong.
The market continues to benefit from low mortgage rates. The average 30-year fixed rates is currently around 3.6% and is unlikely to rise significantly anytime soon. Even as borrowing costs remain very competitive, it's clear buyers are not necessarily jumping at any home that comes on the market. Although it's still a sellers' market, buyers have become increasingly price-conscious which is reflected in slowing home price growth.
ABOUT MATTHEW GARDNER
As Chief Economist for Windermere Real Estate, Matthew Gardner is responsible for analyzing and interpreting economic data and its impact on the real estate market on both a local and national level. Matthew has over 30 years of professional experience both in the U.S. and U.K.
In addition to his day-to-day responsibilities, Matthew sits on the Washington State Governors Council of Economic Advisors; chairs the Board of Trustees at the Washington Center for Real Estate Research at the University of Washington; and is an Advisory Board Member at the Runstad Center for Real Estate Studies at the University of Washington where he also lectures in real estate economics.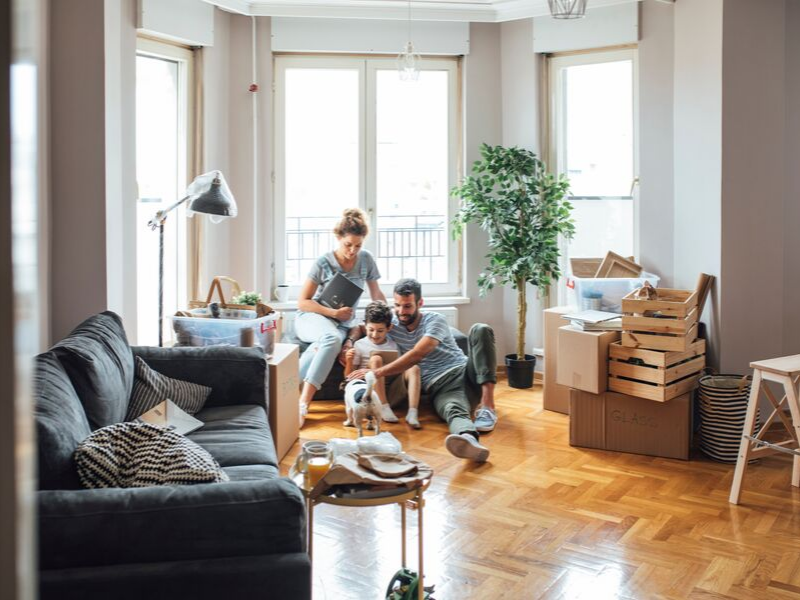 Congratulations on your new home! You made it through the arduous process that is buying a new home. Now it's time to take on the task of moving in.
You did your research about the neighborhood and you feel like you know the home like the back of your hand. However, there are some things to do as you move in to protect your newest investment, and yourself, from the unknown variables in and around your home.
Change the locks garage door codes
Previous owners might have changed the locks, but they may not know who all has a key or a code to open your garage, especially neighbors who they trusted to watch their place while they were away. Changing the codes and locks on all the doors ensures that you have complete control over entry to your home
Check or Install Fire and Carbon Monoxide Detectors
If the home already has fire and carbon monoxide devices, make sure they are in working order by testing each one with the tester button. Keep a note of when to replace them as well.
If they don't have them, install a device in each sleeping room, as well as common areas like the living room or kitchen. Hallways are a great place to cover multiple rooms with one detector as well.
Install a security system
Enjoy total peace of mind with a new security system. Meet with a consultant on the best ways to protect your home for a system that works best for you and your lifestyle.
There are also app-connected systems that you can set up yourself that notify you of movement on the cameras or doors and windows opening.
Meet the neighbors
Build a sense of community and get to know the lay of the land by knocking on neighbors' doors to get to know them. Bring a small gift as a "thank you" for dealing with the moving trucks. This is a great initial step for figuring out who you can trust to watch things while you're away should you need a helping hand in the near future.